Welcome to
PLA
India's Best Coaching for Judiciary & Other Law Entrance Exams.
Pahuja Law Academy (PLA) has introduced numerous sui generis techniques for making this arduous task, an uncomplicated and simple business. PLA offers expert judicial coaching for with the facilitation of experienced and expert faculty members for each and every subject. We at PLA not only prepare students for their judicial service exam but also bestow them professional mentoring for their career as a Judge.
PLA is a trusted name for judicial candidates who desire to pursue their journey to become judicial officers in the country. Our formula for success lies in the meticulous methodology that is followed by us in preparing the Judicial Aspirants which are in the form of following features: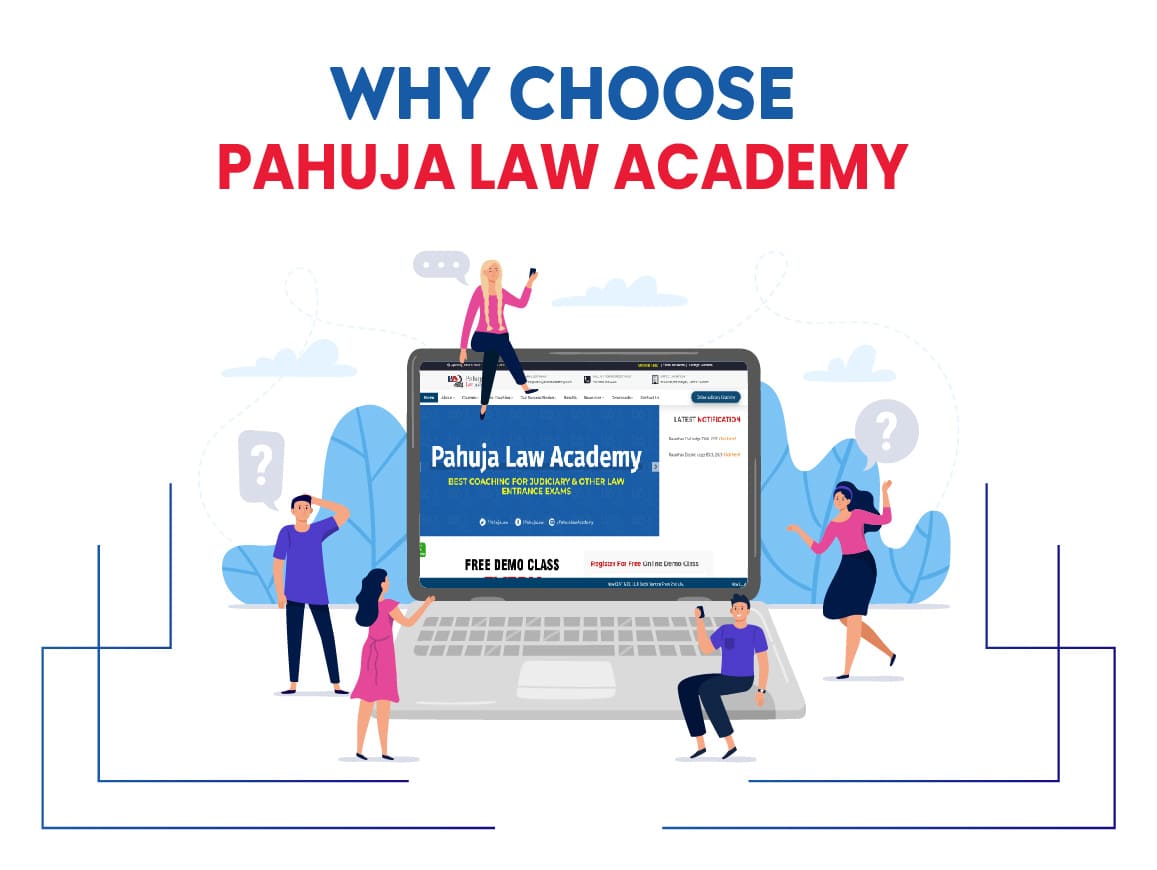 Compreshensive Course
We provide a COMPREHENSIVE COURSE STRUCTURE FOR JUDICIAL Preparations, this includes classroom programme for Major and Minor Laws along with Local Laws for every state, GK/Current affairs and Language
Preliminary & Mains Test Series
We provide our students with SUBJECT WISE TESTS FOR - PRELIMINARY AND MAINS, which are given in the class after every ten days and also as per the schedule of the upcoming state.
Stage Wise Preparations
We provide our students with STAGE WISE PREPARATIONS for PRELIMINARY, MAINS AND INTERVIEW Programme.
Expert Faculty
We provide EXPERT FACULTY FOR EVERY SUBJECT for all the subjects that are covered under our comprehensive course structure including subjects of LAW, GK, GS, Current Affairs and Language.
Exhaustive Materials
We provide very extensive and EXHAUSTIVE MATERIALS in the form of Books, Test Booklets, Case Laws, Current Affairs Booklets, etc to our judiciary students for their reading purpose.
Interactive Classes
Pahuja Law Academy classes are exceptionally INTERACTIVE for the students to have real time doubt clearance on any particular topic or subject that they are studying.
Small Batch
We give the classes in a SMALL BATCH SIZE in order to let the teacher give personal attention to individual students.
Marathon Crash Course
SPECIAL MARATHON CRASH COURSE CLASSES FOR – PRELIMINARY AND MAINS (All States)
Comprehensive Test Series
SPECIAL COMPREHENSIVE TESTS FOR – PRELIMINARY AND MAINS (All States)
Interview Guidance Program
Interview Guidance Programme – Grooming Session And Multiple Mock Interviews With Expert Panels
Flexible Classes
At Pahuja Law Academy we have FLEXIBILITY IN ATTENDING CLASSES as student can learn and complete their respective course at their own speed
Topic wise Bifurcation
We provide our students with STATE WISE SYLLABUS BIFURCATION in order TO MAKE them READY FOR their SELECTION SINCE the first DAY ON which they join.
Post Course Facilities
We also provide our students with POST COURSE FACILITES in the form of Online test series, Offline Test Series, doubt clearance sessions, AND INTERVIEW Guidance Programme, free of cost even after their completion of course with us.
Record Breaking Results
These Features presented by us have resulted in record breaking Results in the states across the country. Also, most of our qualified judges are first time judicial examinees and have cracked their selection in their first attempt.
Real Time Doubt Clearance
We at PLA work hard at providing real time doubt clearance of concepts for this plays an extremely vital role in clearing the intricate topics of law to individual students.
This is an incredible opportunity for the Judicial Service aspirants to join the best judicial coaching in India. Pahuja Law Academy being based in Delhi was already the best judicial coaching academy in the Delhi NCR region but with the passage of time and its combination of offline plus online classes programs and state of the art online test series its has spread its reach across the nation to even remotest of places.
Pahuja Law Academy has reached the status of best judiciary coaching in India by breaking down the gigantic syllabus prescribed for judicial services in almost all states, in 4 broad heads and rendering coaching with a structured format to cover the germane topics with a result oriented approach for judicial services.
The Judicial Service candidates are immensely benefitted by the expert mentoring and guidance provided by a team of best faculty members teaching their respective specialized subjects at Pahuja Law Academy. Apart from the verbal instructions, PLA also gives quality study materials in the form of Bullet Notes, Books, Test Booklets, Case Compilation, Current Affairs Monthly Magazine, Subject and Topic Wise Bifurcation, etc, to our candidates which has an exhaustive coverage of all the pertinent subjects of law and the useful topics under their vast ambit which are frequently asked in the papers for various states.
The Academy also provides the judiciary candidates with the best test series papers for Prelims, Mains in both Offline and Online platforms (for all states) and also nurtures them through its Interview Guidance Program free of cost even after completing their requisite course duration at Pahuja Law Academy.
We have given astounding results pan India by the means of the abovementioned master class techniques and it's now your time to join the best judicial academy in India and get the best results for your own self.